WHAT IS THE INTEGRATED SYSTEM
An innovative window solution for maximum results
A window on the world. Effective integrated systems turn your window into a link with the outside world and a provider of comfort and wellbeing. The right insulation also improves quality of life inside buildings. A ground-breaking answer for better faster insulation of stud openings: the integrated heat-insulating window system. This is a unique complete system, ensuring extremely accurate, high quality combination of all the elements in our factory to be installed between wall and window.
The integrated system arrives on site pre-assembled and ready for installation and its all-in-one window solution does away with the need for separate stages carried out by different specialists. The stud opening is insulated by a single element, eliminating the risk of thermal bridges being created at several installation stages. Alpac integrated PRESYSTEM® is suitable for all kinds of windows and is produced in specific variants to match the masonry finish. Alpac products are always unique because they are always made to measure.
Alpac integrated system parts
Alpac PRESYSTEM® is the result of relentless research and development focused on continual improvement of energy and comfort performance. Maximum results however require optimisation of the combination of the different parts. Our range offers quality solutions perfectly complementary to the integrated window system, that means the entire system can be adapted to suit both client requests and planning needs. For unequalled energy efficiency. Guaranteed by Alpac.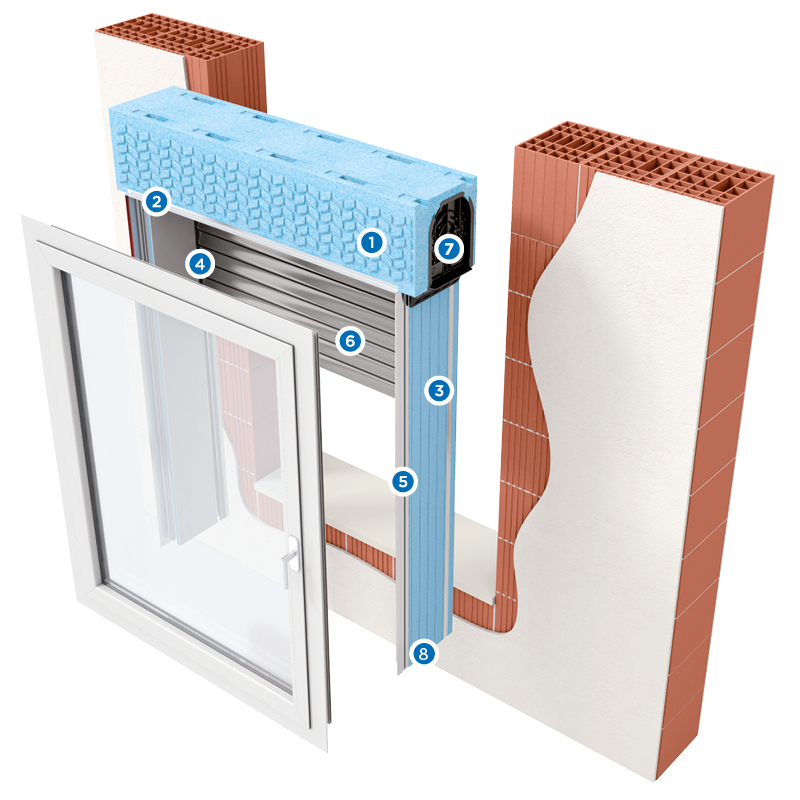 Prefabricated concealed roller shutter or blind box with relief fretwork to grip the plaster or other finish and profiles to support the plaster
Insulated cover
Insulating sides in extruded polystyrene (XPS) and fibre cement
Tracks
Thermal break sash frame in aluminium or special window sash wood
Shutter or blind system (roller shutters, sunshades, solid panel shutters)
Motor and other operating accessories
Thermal break under sill panel to complete insulation also on the fourth side